DESIGN BUILD / DESIGN ASSIST
Owner: Edge Fund Advisors LLC
Location: 4 New York Plaza New York , NY
Client: Henegan Construction
A design assist project for the relocation of all of 4 New York Plaza's electrical equipment to another level in order to prevent future flooding; which includes the replacement of five 4000A services, the furnishing of new turbine parallelling switchgear and the installation of five new closed transistion ATS.  As a result of Hurricane Sandy all the switchgear rooms were submerged by ocean water which left the building without power.  During the initial emergency phase of the project E-J provided manpower around the clock, supplying both temporary and emergency equipment meeting every owner deadline.  E-J surveyed, repaired and prepared for green sticker occupancy for their tenants such as the NY Times and JP Morgan Chase. E-J provided design assist and electrical construction services for 4 New York Plaza which houses data centers for AMI, The Daily News, and JP Morgan Chase Bank following superstorm sandy.  This included refurbishing an existing parallel redundant UPS system, installation of a new UPS system arranging them in a system plus system configuration.  This included replacement of 5 – 4000A services and 7MW of diesel and turbine generation.
Owner: Forest City Ratner
Location: Atlantic & Flatbush Avenues Brooklyn , NY
Client: Hunt Construction
E-J Electric initially worked with Turner Construction, Flack & Kurtz, and  Frank Gehry Architects in an overall "Design Assist" role for all electrical systems for a 20,000 seat arena partially located over a former railroad yard in downtown Brooklyn.  When Hunt Construction and Ellerbe Becket were brought on to redesign the project earlier this year, E-J continued to work with F & K and took on the additional responsibility as the low voltage systems design builder with Ermco Electric and Parsons/TSI.
The 675,000 sq ft. NBA approved, state of the art facility will feature "best in class" technology with redundant infrastructure for flexibility & growth.  Broadcasters will have consistent & reliable connectivity with easy access.  Wireless coverage is designed to cover 100% of the arena space.
Owner: Mt. Sinai Hospital
Location: 101st Street & Madison Ave New York , NY
Client: Bovis Lend Lease LMB, Inc.
MT. SINAI HESS CENTER FOR SCIENCE AND MEDICINE
E-J is the Electrical Trade Manager working as a team with Bovis Lend Lease, SOM, JBB and the Owner firstly in a pre-construction role. During this initial period, we work closely with the design team to provide electrical value engineering and cost control for the final design.
During the construction segment of the project, E-J will manage the electrical construction which will include a primary distribution system, complete normal and emergency power systems, the complete hospital interior which also includes the teledata work, fire alarm, security and audio visual systems. We intend to secure the services of approximately five electrical contractors, all MBE and WBE concerns, to perform the work. E-J will coordinate and overview these subcontractors during the entire construction
Owner: 425 Park Avenue Company
Location: 425 Park Avenue New York , NY
Client: 425 Park Avenue Company
A 32 story office building located on Park Avenue between 55th and 56th Streets.  The building suffered a major electrical fire which destroyed their bus duct distribution system which fed almost the entire building.  The electrical distribution was temped out and the building was reopened.  E-J was Prime Contractor in a Design/Build capacity.  The job was predominantly electrical but other trades required include Structural, Carpentry, HVAC, GC and Environmental.  A conceptual plan was put together using the worst case floor and was submitted to the NYC Department of Buildings, Electrical Advisory Board for conceptual approval.  This conceptual approval was granted.  Within 6 weeks fully engineered plans were produced and submitted to the Advisory Board for formal approval, which was granted.  The work has been underway and is near final completion.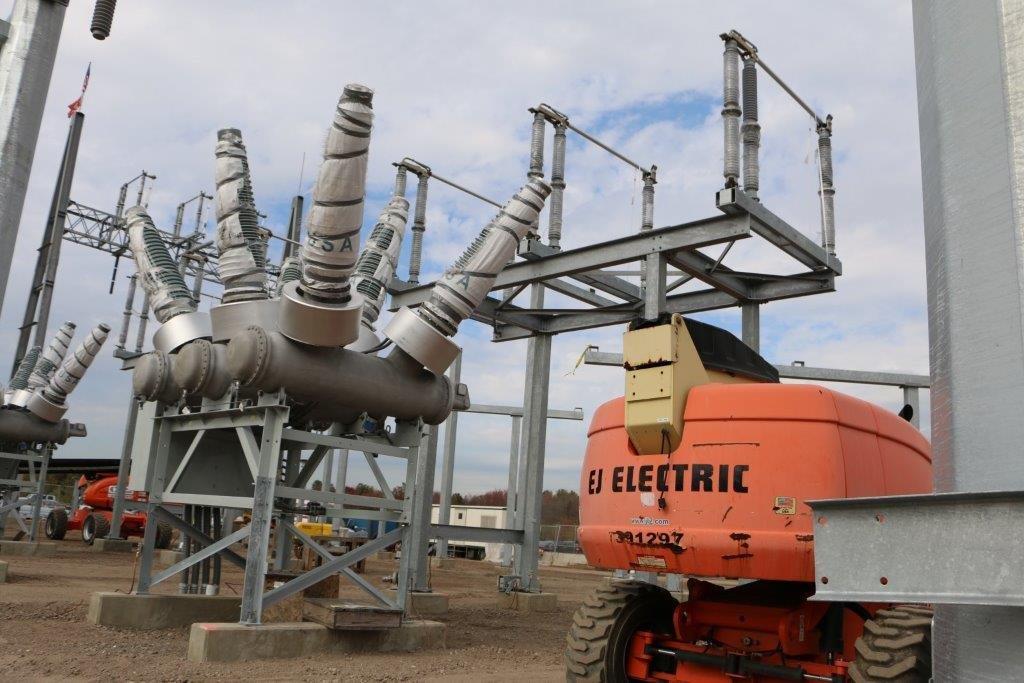 CPV WOODBRIDGE ENERGY CENTER-230 KV SUBSTATION & TRANSMISSION LINE
The onsite 230kV switchyard connects the power plant to a 4 mile 230kV radial circuit that connects to the grid at the JCP&L Raritan River Substation. The Facility will be connected to Jersey Central Power and Light's (JCP&L) Raritan River Substation via a four breaker radial switchyard and a single circuit two conductor per phase 230kV transmission line (the Electric Transmission System). The sanitary (wastewater) line will exit the WEC Facility and discharge into the MCUA meter pit, located approximately 2,800 feet away. Plant cooling water (circ water) will be gray water provided by the MCUA facility in Sayreville, N.J. The gray water line will come from MCUA, as an U/G line from the new  pumps (to be installed by others), through the  existing MCUA shafts and tunnel a half a mile under the Raritan River, continuing as an U/G line along the river and into the WEC Facility.
Location: 17-10 Steinway Street Astoria , NY
ASTORIA ENERGY II 500 MW POWER PLANT
The Astoria Energy Phase II Expansion Project added a new 540MW to the 1000MW facility, consisting of 2 GE Frame 7FA Gas Turbines and 1 GE D11 Steam Turbine Generator. E-J's complete scope included 345kV overhead lines and GIS switchgear, PDC's throughout the plant, air cooled condenser, HRSG, GIS bus, fire alarm, and all electrical work for instrumentation. Installation included 100,000 ft of underground conduit, 100 miles of electrical cable and 25 miles of above ground conduit.
E-J supported the EPC contractor with design assist starting 12 months before construction. During the design phase, the EPC contractor's electrical designers incorporated E-J's vast power plant knowledge by working hand in hand with E-J's engineering team at their home office.
Because of the project's fast track schedule, E-J was tasked to complete the Above Ground Electrical package within 10 months. Due to the compressed schedule and small plot of land, E-J employed "just in time deliveries" and worked multiple shifts in order to meet deadlines.
Owner: Astoria Energy LLC
Location: 17-10 Steinway Stree Astoria, Queens
Client: Shaw Stone & Webster
ASTORIA ENERGY 500MW POWER PLANT
A new 500 megawatt highly efficient electric generating facility using state-of-the-art combined-cycle, technology and air pollution control systems. The major equipment includes combustion turbines, heat recovery steam generators, air pollution controls and steam turbines. The facility uses air cooled condensers for the cooling system to significantly minimize water consumption. Natural gas is the primary source of fuel with low sulfur distillate fuel oil serving as a backup fuel for up to 720 hours annually. The Plant, located in the Queens load pocket, utilizes the transmission facilities at the existing Con Edison Astoria East Substation approximately one-half mile from the site to deliver clean, reliable electricity to New York City and the surrounding region.
Location: 42nd Street & 1st Avenue New York , NY
Replaced Con Edison provided 2500kVA (13.8kV primary/ 120/208V secondary) transformer at United Nations headquarters. Provided 100 ton crane to hoist existing transformer out and hoist the new transformer into the sub-grade vault on United Nations property. The work was complicated by the location (off property on 1st Avenue) of the Con Edison truck delivering and taking away the transformers. Project involved disconnecting and re-connecting primary and secondary conductors as well as performing required "Hi-Potential" testing to Con Edison specifications. Surface grating was removed, modified and re-installed to accommodate the new installation. All work was performed "off-hours" and coordinated to avoid any conflict with ongoing United Nations operations.
Location: JFK International Airport Jamaica , NY
Client: VRH Construction Corporation
AMERICAN AIRLINES CARGO BUILDING #123 JFK INTERNATIONAL AIRPORT
AMERICAN AIRLINES CARGO BUILDING #123 JFK INTERNATIONAL AIRPORT
Cargo Building #123 at JFK International Airport is American Airlines premier cargo handling facility in the northeast.  E-J won this contract thru competitive bidding after budgeting and value engineering the project for close to one year.
This project involved installing over 120 work stations in a 150,000 square foot facility.  The environment ranged from a controlled office environment to a warehouse environment.  The project included approximately 100 Intelligent work stations and 20 Bar Code Scanning work stations all with SABRE connectivity.
Since the facility is a large single level design, running footage quickly accumulates.  This translates into a critical LAN design.  The data, clean power and grounding specifications had to be closely monitored.  The final design evolved into a single TI Room with 3 satellite closets and 3 concurrent LANS.
One value engineering concept that E-J spearheaded was fiber optics.  E-J engineered the communication system between the TI Room and satellite closets.  Our engineers changed the shielded twisted pair data cabling to a multimode fiber optic cable.  This provided American Airlines a direct up front project savings of 5% and resulted in a more flexible installation.
Carrying the value engineering principles one step further E-J took a critical look at the fiber optic ST connectors.  After evaluating many different connectors in respect to performance (db loss), price, and installation we selected Siecors new no polish, no heat connector.  The connector met performance criterion and lowered project costs even further.
Another value engineering area that was carefully analyzed was raceways.  The protection required by the copper and fiber optic cable differed as the installation environment changed.  Free Air, Cable Tray, Inner Duct, Messenger, EMT and Galvenized conduit were all reviewed.  Free Air, Cable Tray, and EMT were utilized after careful consideration because it provided the maximum cost effectiveness combined with the degree of protection that was actually necessary.
Once work actually began the schedule became a critical concern.  E-J had to combine implementing "State of the Art Technology", with a compacted schedule.  This project became American Airlines first data/telecommunications project at JFK International Airport to finish on time and below the budget.
Owner: Metropolitan US Postal Authority
Location: 79th Avenue New York , NY
Client: Crow Construction Co.
USPS GENERAL MAIL FACILITY, MANHATTAN
New 800,000 sq. ft. mechanization facility required as an extension of the existing Morgan Station. The project involves a high level of coordination and intense scheduling. Our installation involves a 480 volt Con-Edison service and distribution, lighting, fire alarm, temperature control, security systems and a 400kW generator.
As a member of the design/build team, we continued to evaluate time and cost saving ideas as the construction progressed, completing the project on time and under budget.
Owner: Columbia University
Location: Columbia University Campus New York , NY
Client: Columbia University
COLUMBIA UNIVERSITY – EMERGENCY POWER
Design/build, including all electrical and mechanical aspects, of auxiliary generation network for seventeen buildings. Field engineering, scheduling, coordination, and installation of fire alarm and emergency lighting systems in thirty functioning buildings.
E-J Electric was awarded a design/build contract to provide emergency power to seventeen buildings throughout the Columbia University Complex, after offering an alternative design to meet the University's budgets. E-J changed the original concept from central generators to remote package units, drastically cutting down on power distribution and mechanical costs while maintaining the integrity of this critical system.
The other major aspect of this contract was fire alarm upgrades or replacements in over thirty buildings. Certain buildings received totally new systems, some buildings received elevator recall systems, but almost all required power feed modifications to bring the systems into code compliance.
Throughout this project, critical aspects such as landmark status, asbestos, usage (school, theatre, etc…) and installation noise had to be considered. E-J was also involved with the filing of the project with the DOB, Fire Department and Bureau of Electrical Control, as well as other mechanical and electrical code related issues.
Owner: Port Authority of NY & NJ
Location: 5 WTC New York , NY
Client: Port Authority of NY & NJ
WORLD TRADE CENTER SECURITY SYSTEM
E-J was Prime Contractor for 34 million-dollar Design/Build/Maintain project for the WTC Security System. The site consists of four buildings on a sixteen acre "footprint", two major towers of 110 stories, rising to 1,350 feet with each floor consisting of about one acre in area. This design-build security project included: control access to sensitive building areas, access controls to interior building areas, centralize security monitoring and coordination, system redundancy using a Parking Access Control system, CCTV system, Door Access Control system, Intrusion Detection/Alarm system, lobby turnstiles & barriers, visitors desk stations, digital badging, door locking, intercoms, and duress alarms. E-J erected a primary Security Command Center and a backup Security Command Center, Master Computer system as well as Redundant Computer systems including a Communication Network utilizing 1,500,000 feet of fiber optic cable and a backup electrical power supply system. E-J was chosen on a negoitiated basis using technology, long term maintenance, management ability and price as a criteria.
As prime contractor, E-J had the engineer, general contractor and security integrator all working under its supervision.