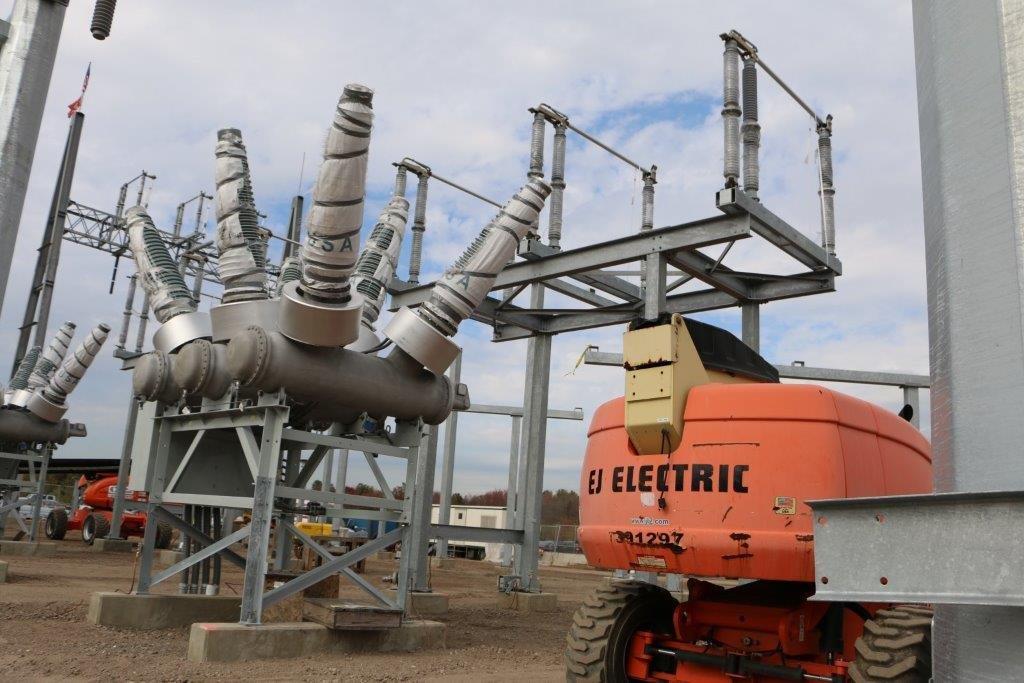 Location: Woodbridge , NJ
CPV WOODBRIDGE ENERGY CENTER-230 KV SUBSTATION & TRANSMISSION LINE
The onsite 230kV switchyard connects the power plant to a 4 mile 230kV radial circuit that connects to the grid at the JCP&L Raritan River Substation. The Facility will be connected to Jersey Central Power and Light's (JCP&L) Raritan River Substation via a four breaker radial switchyard and a single circuit two conductor per phase 230kV transmission line (the Electric Transmission System). The sanitary (wastewater) line will exit the WEC Facility and discharge into the MCUA meter pit, located approximately 2,800 feet away. Plant cooling water (circ water) will be gray water provided by the MCUA facility in Sayreville, N.J. The gray water line will come from MCUA, as an U/G line from the new  pumps (to be installed by others), through the  existing MCUA shafts and tunnel a half a mile under the Raritan River, continuing as an U/G line along the river and into the WEC Facility.
Location: 85 Broad Street New York , NY
Client: Jones Lang Lasalle
Restoration of permanent power to 31 Story Class-A Office building in financial district of New York City due to severe damages caused by Hurricane Sandy.  Work includes relocation of all critical 480V service including distribution equipment to above flood plain, up on 2nd floor.  This building will have enough generator power to stay fully operational on any loss of utility.  E-J is working as the General Contractor and is responsible for all Electrical, Structural, Architectural, HVAC, Plumbing, Sprinkler, Masonry and Concrete work.
Owner: ATCO Properties & Management Inc.
Location: 80th Street & Cooper Avenue Glendale , NY
Client: Plaza Construction
VAULT & PRIMARY DISTRIBUTION OF ATLAS PARK
E-J Electric was the prime contractor for the complete structural, mechanical and electrical installation for the thirteen acre site's main power distribution including Con Edison utility vaults.
The installation required routing 27kV Con Edison feeders underground to (4) 2000kVA transformers feeding network protectors bussed directly to 480 Volt switchgear.
The distribution across the site is a 480 Volt system via ductbanks and manholes. The longest feeds utilized (2) 5kV unit substations in a step-up step-down configuration.
Location: 111 8th Avenue New York , NY
GLOBAL CENTER – EMERGENCY POWER
E-J Electric Installation Co., was the prime contractor for the installation of (3) 2000kW generators on the rooftop of the old Port Authority of New York & New Jersey Building. E-J subcontracted the mechanical and steel installations and integrated the new emergency power into the existing electrical distribution system.
Location: Nevins Street & Flatbush Avenue Brooklyn , NY
Client: Reliance Surety Insurance Co.
NEVINS STREET TRANSIT STATION
$4.5 million rehabilitation of major NYC Transit Authority Station in Brooklyn. Handled completion of all remaining general construction and electrical work for bonding company when previous general contractor went into bankruptcy.
Owner: Mount Sinai Health System
Location: 5 East 98th Street New York , NY
Client: Mount Sinai Health System
MT. SINAI – EMERGENCY POWER EXPANSION
As a Prime Contractor on this project, our scope included all electrical and general construction work required to furnish and install two new 1500kW generators, complete with Zenith automatic synchronization switchgear, ten automatic transfer switches and a new 20,000-gallon fuel oil tank. This equipment was installed in a fully functional hospital and research facility without disruption of day to day operations. The power distribution from the generator consists of the installation of over 15,000 feet of 3 ½" conduit and 50,000 feet of cable from the third sub-basement generator room to the main service room on the 9th floor and a conduit system up to the 27th floor.
Due to space restrictions, the generators and 3,000 ampere transfer switch had to be disassembled and reassembled. The vertical risers required the use of a bosum's chair for access into the available riser space. The project was completed in approximately 10 months from start to finish.
Owner: Port Authority of NY & NJ
Location: 5 WTC New York , NY
Client: Port Authority of NY & NJ
WORLD TRADE CENTER SECURITY SYSTEM
E-J was Prime Contractor for 34 million-dollar Design/Build/Maintain project for the WTC Security System. The site consists of four buildings on a sixteen acre "footprint", two major towers of 110 stories, rising to 1,350 feet with each floor consisting of about one acre in area. This design-build security project included: control access to sensitive building areas, access controls to interior building areas, centralize security monitoring and coordination, system redundancy using a Parking Access Control system, CCTV system, Door Access Control system, Intrusion Detection/Alarm system, lobby turnstiles & barriers, visitors desk stations, digital badging, door locking, intercoms, and duress alarms. E-J erected a primary Security Command Center and a backup Security Command Center, Master Computer system as well as Redundant Computer systems including a Communication Network utilizing 1,500,000 feet of fiber optic cable and a backup electrical power supply system. E-J was chosen on a negoitiated basis using technology, long term maintenance, management ability and price as a criteria.
As prime contractor, E-J had the engineer, general contractor and security integrator all working under its supervision.
Location: UN Headquarters New York , NY
UNITED NATIONS SECURITY STRENGTHENING
E-J Electric is the prime contractor on this 25 million dollar Security project which consists of a complete campus wide security upgrade of the UN Headquarters including the installation of new perimeter fence with foundation in granite, vehicle and personal access control, security CCTV system, vehicle barriers, complete IT Network, intrusion detector system, new control room, perimeter bollards, additional outdoor cameras and lighting, secure alarm contacts for air intakes and manholes, etc.
Owner: NYC Transit Authority
Location: 7 Stations between Myrtle & Metropolitan Avenues Brooklyn-Queens , NY
MYRTLE AVENUE SUBWAY LINE
Completion of all Transit Authority General Construction and electrical work on a $7 Million seven station NYC Transit rehabilitation project. Took over for Bonding company from defaulted general contractor. Work included meeting project budget and fast track completion schedule for customer. fire alarm, communications and lighting in each station were installed.
Location: 42nd Street & 1st Avenue New York , NY
Complete renovation and retrofit of radio studio #5 at the United Nations including architectural, mechanical, electrical, accoustical and telecommunications installation. Design Build project coordinating directly with London based BBC project management.
LORD & TAYLOR COMPUTER ROOM EMERGENCY BACKUP
Design/Build of a UPS installation for Lord & Taylor's national computer system, including battery backup, emergency generation and all electrical and mechanical systems.