Location: 778 New Dover Road Edison , NJ
A 138/13.8kV Class H substation with two substation transformers supplied by two overhead transmission lines O-1315 and W-2249.
Half the substation (the 138kV bay) shall be upgraded to 230kV.  Scope also includes the removal of all 138kV equipment and structures and the upgrading of the bay associated with Substation Transformer T1 to 230kV.
Owner: Astoria Energy LLC.
Location: 17-10 Steinway Street Astoria , NY
ASTORIA ENERGY 345KV GIS SUBSTATION & AIR INSULATED SWITCHYARD
The new substation located on the Con-Ed Poletti site provides the interface point between the new Astoria II Power Plant and NYPA. A 345kV aerial transmission line feeds gas-insulated switchgear (GIS) arranged in a ring-bus configuration with four circuit breakers (with provisions to accept two additional feeders). The ring bus serves Con-Ed high pressure fluid filled feeders via overhead aerial cables and bus located in the adjacent switchyard. Two 150MVA shunt reactors were relocated from the decommissioned Poletti Generating Station and installed in the new switchyard.  In addition to installing all the GIS and switchyard power distribution equipment, E-J also installed all associated controls, instrumentation, and metering.
E-J's scope also included a complete fit-out of all building services including lighting, power, mechanical, BMS, security, fire alarm and communications.  Due to environmental remediation of the soil, the project schedule was compressed to include peaking at 120 electricians with 2 shifts a day, 7 days a week.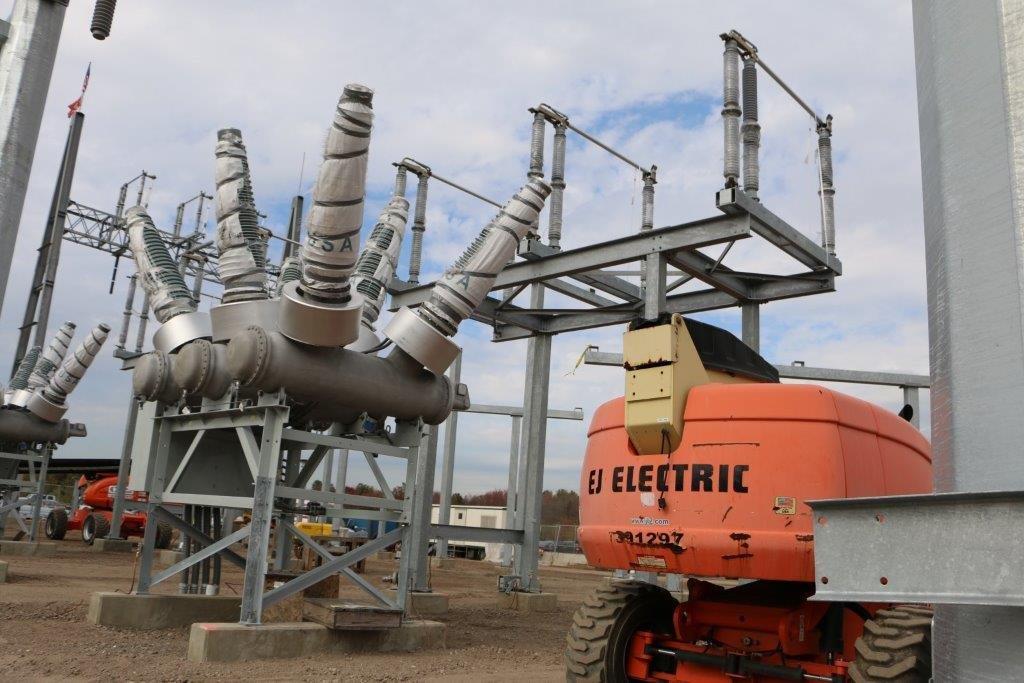 Location: Woodbridge , NJ
CPV WOODBRIDGE ENERGY CENTER-230 KV SUBSTATION & TRANSMISSION LINE
The onsite 230kV switchyard connects the power plant to a 4 mile 230kV radial circuit that connects to the grid at the JCP&L Raritan River Substation. The Facility will be connected to Jersey Central Power and Light's (JCP&L) Raritan River Substation via a four breaker radial switchyard and a single circuit two conductor per phase 230kV transmission line (the Electric Transmission System). The sanitary (wastewater) line will exit the WEC Facility and discharge into the MCUA meter pit, located approximately 2,800 feet away. Plant cooling water (circ water) will be gray water provided by the MCUA facility in Sayreville, N.J. The gray water line will come from MCUA, as an U/G line from the new  pumps (to be installed by others), through the  existing MCUA shafts and tunnel a half a mile under the Raritan River, continuing as an U/G line along the river and into the WEC Facility.
Owner: Consolidated Edison
Location: 95 Grasslands Road
Client: Consolidated Edison
The Grasslands Substation project called on E-J Electric to provide the complete "above grade" electrical package. The work within this scope included the rigging and placement of switchgear, a complete 3000A/4500A bus duct system, installation and termination of all control and power cables, placement and wiring of all control room equipment, (2) 500kVA station power transformers, complete fire alarm system, complete public address/paging system and completion of two 138kV/13.8kV transformer bays which included welding of cable bus, installation and adjustment of circuit switchers and circuit interrupters and all 125VDC control devices.
The station was completed on an aggressive schedule, made challenging by one of the areas most severe winters. This was the first time that Consolidated Edison Co. contracted this complete scope of work.
Owner: Consolidated Edison/Silverstein Properties
Location: 7 WTC New York , NY
Client: Tishman Construction
7 WORLD TRADE CENTER SUBSTATION
E-J prepared, at 7 World Trade Center, the space for the Con Ed utility substation including five 138kV transformers. The work consisted of providing temporary service of 4,000 amps for initial and future phases of construction. E-J also installed nine miles of conduit for medium-voltage and high-voltage distribution duct banks and installed 8-ft by 8-ft horizontal ground plates with cad-welded conductors as well as ground rods, to provide complete building lightning protection and grounding system. All grounding was tested to exacting Con Edison "Fall of Potential" specifications.
Owner: Consolidated Edison
Location: 464 West 110th Street New York , NY
CON ED 110TH STREET SUBSTATION UPGRADE
The upgrade of this existing active 13.2kV Con Ed Substation consisted of receiving, rigging and setting new sections of 13.2kV switchgear, making bus ties between existing and new switchgear and performing welding of switchgear enclosures as required. The work was performed on a 24-hour/day basis during Con Ed shutdown and was completed ahead of schedule.